Commercial Landscaping Services
We offer full-service Commercial Landscape Design, Build (Installation), and Maintenance Services.
Earthscapes has an excellent reputation for high-quality work and customer satisfaction.
Your client's first impression means everything. That first impression is most commonly the outside appearance of your property or office building. Earthscapes is dedicated to providing quality service with verified results to keep your property inviting, comfortable and appealing to your visitors. With our extensive knowledge of commercial landscaping, our professionals can ensure that your guests have a safe and enjoyable visit to your property.
Commercial Landscape Design Services
The Design process begins with a meeting with our design staff. The following are the steps of the Design process in the order they would typically be completed:
Design Proposal

– After the initial meeting and once we have an idea of the scope of your project, we will provide you with a proposal to complete the Design process.

Site Analysis

– precise measurements are taken, as well as a complete evaluation of the existing site conditions.

Preliminary Drawings

or a

Master Plan

– plans are created based on your initial wishes.

Construction Drawings

– completed from your approved Preliminary or Master Plan.




— Hardscape Plans (with Construction Details and Specifications, if needed)




— Planting Plans with Plant Photos and Descriptions




— Irrigation Plans




— Drainage Plans (if necessary)




— Outdoor Lighting Plans (if desired)

Color Renderings and Sketches (optional)
Quote for Build (Installation) – after any revisions and upon approval of the Construction Drawings, we will provide you with a quote detailing the cost of installing your project.
Commercial Landscape Build Services
No matter the size or complexity of your project, our experienced and detail-oriented crews will professionally install your landscape project. Below are the types of projects we can install for you:
Patios, Walks, Driveways, and Small Parking Lots
Retaining and Garden Walls
Fences, Gates and Arbors
Native and Drought Tolerant Plantings
Irrigation Systems
Drainage Systems
Erosion Control
Dry Creekbeds
Water Features
Outdoor Lighting
Outdoor Kitchens
Commercial Landscape Maintenance Services
Our experienced crews will keep your landscape in excellent condition while maintaining the original intent of your landscape design, as well as the investment in your landscaping. We offer the following services:
Insect and disease control
Weed prevention, removal, and abatement
Safe and proper use of pesticides, herbicides, or Integrated Pest Management (IPM) practices. (Integrated Pest Management (IPM) is an ecosystem-based strategy that focuses on long-term prevention of pests or their damage through a combination of techniques such as biological control, habitat manipulation, modification of cultural practices, and use of resistant varieties.)
Pruning of trees (small to medium size), fruit trees, roses, ornamental grasses, and perennials
Irrigation system inspections, repairs, new installations, and controller scheduling
Care of turf and groundcovers
Fertilization of turf and plants in the appropriate amounts and at the recommended times
With a Certified Landscape Irrigation Auditor on staff, we can evaluate your irrigation system to determine whether water can be saved.
Commercial Projects Before & After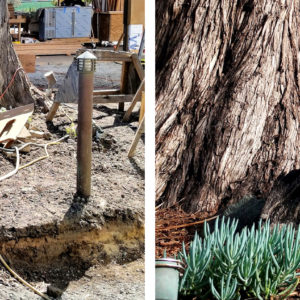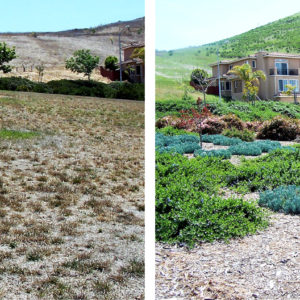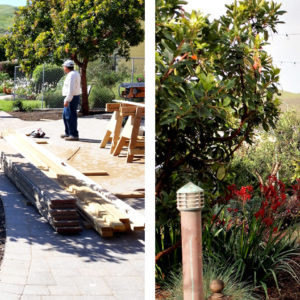 "My garden is wild with joy. Thanks for your marvelous work and creativity!"

"There was no proper drainage on the property and our house had flooded several times during the 20+ years we have lived here. Earthscapes designed and built an entirely new landscape and drainage system for our home. Everyone involved in this process was professional, creative, and fun to work with. They showed up exactly when they said they would. The subsequent drainage system and landscaping has given us an environment that has resulted in countless hours of joy."

"Suzanne and Mike Morrison are the owners of Earthscapes, and are as professional as anyone in business we've met. From the early meetings with Suzanne about the types of plants we might like, to the very professional drawings she prepared, to the installation of a long garden wall and hardscape, to the installation of all of the plant materials, the Earthscapes team was fabulous. Suzanne and Mike have the type of employees that every business owner would love to have."

"Thank you for the exceptional job you and your crew did in creating our backyard sanctuary. From our first meeting to the completion of the project, we felt that we were in a true collaboration with you to create a unique and spectacular space. Your creative and practical input guided us along the way while still allowing us the freedom to create very personal statements with our decisions."

"From the first day, we knew the choice of Earthscapes was the best! The entire team was professional, communicated well with us, spent their time very wisely, and cleaned up along the way and at the end of each day. We are totally pleased with the quality of the materials and the workmanship that went into this project and are enjoying their efforts thoroughly. The work was completed in a timely manner and with top-quality results. Cannot recommend Earthscapes and their team highly enough."

"Suzanne was easy to work with, solicited and responded to our input. She is very knowledgeable about plants that do well in San Luis Obispo and has good relationships with local wholesale nurseries. She allowed us to accompany her to pick out the plants to be used. Earthscapes was a pleasure to work with from top to bottom."

"It was very easy working with Earthscapes. From initial design interview to the installation of the final plant, they provided friendly, professional and personal service. Their crews worked quietly, so the project did not disturb the neighborhood… Most important, Mike and Suzanne listened closely to our vision. The result was a unique landscape designed specifically for our site. They were available throughout the project on phone and e-mail and stopped by frequently to make sure the job was going well. I recommend Earthscapes highly."

"Mike and Suzanne are awesome to work with. Their work has held up very well. They do a great job and stand behind their work. They were very patient with us and worked hard to make sure we ended up with exactly what we wanted. We highly recommend them for hardscape and landscape."

"Suzanne and Mike were very accommodating and patient… I am impressed by the fact that they didn't take shortcuts and the work done was very professional.  I will also be using them for maintenance on my yard. I have had a lot of positive feedback on my yard from neighbors and passersby. I love my new yard, and considering the amount of time, attention to details, quality of materials and professionalism, the price I paid was very fair. I highly recommend Earthscapes."

"I want to thank you for responding so quickly to my request for help for my broken water main. I'm sure you are all quite busy with many planned projects, but you helped me out when I was in a bind and I want you to know that I appreciate it. I am very pleased with the professional and congenial relationship you develop with your clients. I am also very happy with the projects you have completed for us and I hope to continue working with you on future endeavors."